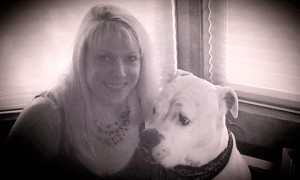 I was born and raised here in the LC Valley. I graduated from CHS in 1985 and attended WWCC for a short time. As of October I will have been at Riverview Animal Clinic for 19 years. I started out cleaning kennels and working upstairs part time as a Veterinary Assistant. In October of 2005 I moved into the position of Office Manager and never looked back. So when you can't find me working up front I'm either in the office doing payroll, taxes or shopping for the clinic.
When I'm not at work I enjoy spending time with family and friends. My husband Justin and I have been married for almost 16 years, w have 3 children between us. Dyllan 22, Graeson, 14 and Alyssa 18. We are also proud Grandparents of a 4 year old Grandson, Gabe.
Now for the furry family portion of my life, Moose – a bull dog/ pitt cross (pictured with me) is my pride and joy, I held him when he was just 3 days old for Dr. Bill to remove his dew claws and he's been my baby ever since. George is a Black domestic short hair, he weighs in at a very slimming 16.8# and we also have a pug named Sadiee. All 3 of my "babies were on the job adoption situations.
I enjoy cooking, either inside or outside on my Traeger Grill. Last September I entered a Rib competition for the 1st time and out of 9 competitors I took home the trophy. This September in the same competition Dr. Keith and I tied, I however took home the trophy again as the judges said my ribs tasted just a few tenths of a point better.
I am also a huge Seattle Seahawk fan and can be found yelling at or jumping up at down in front of my TV during a game. Go Hawks!