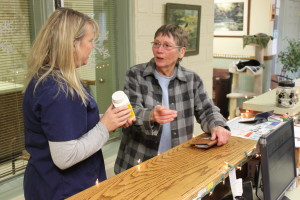 Just as in people, prescription drugs are often the most effective means to prevent or treat disease in animals. Also just as in people, prescription drugs can have good effects and bad effects (or 'side effects'), and it is up to us as your pet's doctors to make sure that the good effects far outweigh the bad effects. In order for us to do that, we must be able to examine your pet to determine what medication will be the most effective – and the safest. And not only is prescribing the right medication important to us here at Riverview Animal Clinic, it is important to the Food and Drug Administration, and it is actually illegal for us to prescribe medications for your pet if we have not examined that pet. So help us keep your pet safe, and keep the process legal, by bringing your pet in for an examination when you think he or she needs a prescription!
We have an extensive pharmacy at Riverview Animal Clinic and can provide almost any drug that your pet needs when you check out after the exam. If we don't have the drug your pet needs, we are happy to order the drug for you or to write a prescription to a local pharmacy.
We can also write prescriptions to online pharmacies if you prefer but our policy and the FDA law are also true for prescriptions filled through online pharmacies. WE CANNOT WRITE ANY PRESCRIPTION FOR ANY PHARMACY, INCLUDING ONLINE PHARMACIES, WITHOUT SEEING YOUR PET. Please see the statement below regarding prescribing to on-line pharmacies. Also, the drugs ordered online may look less expensive, but the cost of the shipping generally makes the cost of the drug equal to, or sometimes more expensive than, prescriptions filled locally so be sure to ask our front office staff about our prices.
Through our pharmacy we also offer products such as Greenies pill pockets and CET chews. If you need something special, please let us know so we can order if for you.
For more information on the products we carry in our pharmacy and on the importance and legalities of prescriptions, contact us at Riverview Animal Clinic (509-758-5022), and visit the American Veterinary Medical Association website at https://www.avma.org/KB/Resources/FAQs/Pages/Prescriptions-and-Pharmacies-Pet-Owner-FAQs.aspx
Statement on online pharmacies from Veterinary Information Network (VIN):
Your Pet's Prescription
Pet owners have a number of options for procuring their pet's medications, including purchasing directly from their pet's doctor, purchasing online from an "Internet pharmacy," or purchasing from an "800 number" pharmacy. There are pros and cons to each of these options, and we want our clients to be fully informed so they can make the best choice for their household.
We are an authorized seller of the pharmacy products that we dispense, which means that the manufacturers of these drugs will stand behind their products if there are any problems. We obtain our products either directly from the manufacturers or from their authorized distributors, usually by overnight shipment, so the quality of these medications is assured.