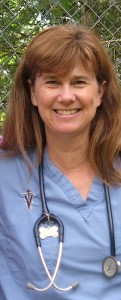 I was born in Anchorage, Alaska and raised in Northern Idaho. I knew at an early age that I wanted to work with animals and checked out books on cow diseases when I was old enough for a library card. Science always fascinated me and I started trying to get a job with a vet at age 10. The years came and went, life went on and obstacles blocked my path many times. My education stretched out 14 years and 3 degrees before I achieved success and began living my dream as a practicing veterinarian.
I am married, have 3 dogs and a special-needs squirrel. We enjoy snowmobiling, boating, and spending time with friends and family when we can.
I love going to work every day. I also have a part-time mobile small animal practice besides working at Riverview 3 days a week. I love meeting new people and their pet family members. I am very blessed to work with skilled, knowledgeable, and caring veterinary technicians and staff.
I am licensed to practice in both Washington and Idaho, and I received my DVM at Ross University, School of Veterinary Medicine.